How to Improve your Home Workouts
Do you need some motivation to workout at home? Check out these handy tips with some advice from our personal trainers to get your body moving and feeling good!
This year many of us have had to change our workout routines. Aussies all over the country have switched out gym floors and yoga studios for their living rooms.
But what's the key to getting the same results at home? How can you stay motivated, improve your workout technique and still remain just as fit?
Well, we've mapped it out for you. With a little help from our trainers, here is Live Life Get Active's top five tips for improving your home workouts.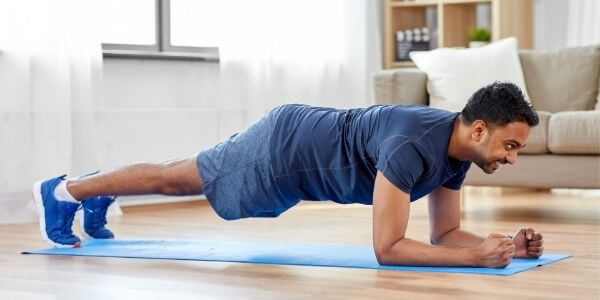 1.   Set up your space and schedule it in
While it's true that not everyone has the space to create an at-home gym, finding a specific place to do your workout is crucial. The first step is to ensure that it's roomy enough for your intended physical activity: it could be your living room or even a spot in the backyard.
Make it feel like your home studio – set up your water station, your mat or towel, music, your household weights, candles, motivational quote. Whatever it is that will make you feel motivated and switch your brain into workout/yoga mode.
"For yoga and meditation, create a dedicated space that is all yours – consider lighting and aromas – remove distractions & roll your mat out at least once a day." –
Michael Dever, Yogi, NSW.
It's also important to eliminate any distractions from your space, whether that's your phone, a tv or even your computer. Also, make sure you schedule this space in your household so you have it to yourself. Staying focussed on your workout will give you the best results both physically and mentally.
2.   Don't rely on equipment: household items will do!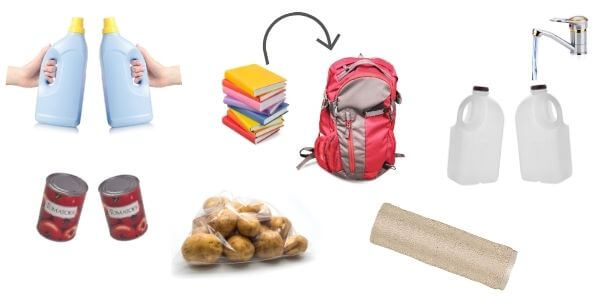 Before you spend your life savings on expensive gym equipment, have a look around your house and see what items you can use instead. Take strength training for example:
"For strength training at home with no equipment such as Dumbell's or kettlebells look for items in your house that could be used in place… such as tin cans in a backpack or fill empty laundry containers or milk bottles that have a handle with sand or water."
Sam Wallace, PT, NSW.
According to the Australian Department of Health, you should be doing 150 to 300 minutes of moderate exercise or 75 to 150 minute of vigorous exercise each week. It is also recommended to do at least two strength activities per week. So keep that in mind when you are finding your equipment substitutes – you may be able to use them across a few different workouts.
Check out our Backpack workout – it will show you that weights are not required to work up a sweat!
3.   Need extra motivation? Find a workout buddy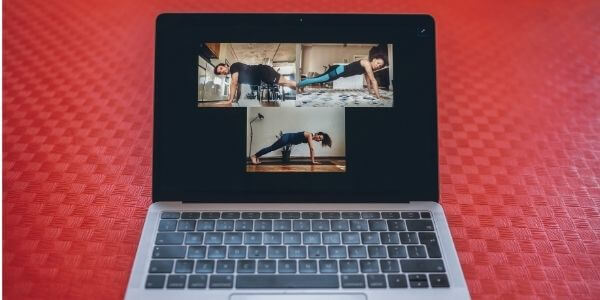 If you aren't used to working out alone, find yourself a workout buddy! Having a person to motivate you and push you harder is always a bonus for you and your workout. If you live with family or friends get them involved, otherwise set up online "workout dates" with friends over zoom.
"I love a towel workout with my wife or friend. They provide the resistance when I'm squeezing my muscles and pulling the towel in then they help with the release as they squeeze their muscles in pulling the towel towards them" –  Nathan Pickering, PT, NSW.
Whether it's in person or over a zoom call, make sure your workout buddy holds you accountable to your workout schedule. And you hold them accountable too, it's a two-way street here!
4.   Set the vibe with your favourite playlist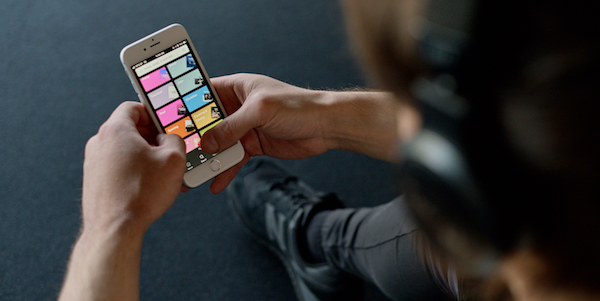 A key to staying motivated during your workout is to set the right vibe. And what's a great way to do that?
"Put on your favourite playlist." – Cat lane, Yogi, VIC.
Whether you're going for a run, doing a HIIT workout or a light round of yoga, there'll be some tunes to get you in the zone. Need some inspo? Check out some of our favourite Spotify playlists:
It's also important to remember to warm up and stretch before and after your workout. In fact, Harvard Health says that stretching is the key to creating strong, flexible and healthy muscles while also preventing injury. Choose some more relaxing songs for a post-workout stretch, you've worked hard – enjoy it.
5.   Change up your workouts
It's hard to stay motivated when you are doing the same thing over and over. That's why it's crucial to change up your workouts and keep things interesting. From strength training to yoga to running, test different ways to complete some physical activity and switch things up.
"Try different techniques."
Sarah dower, yogi, NSW
As well as keeping your mind fresh, it's also important for your body to be moving in different ways as part of your fitness regime. There are a range of different training types you can aim to include like aerobic fitness, strength training, core exercises, balance training, and flexibility and stretching. While each workout doesn't need to contain all these exercise types at once, ensure you cover your all bases throughout the week.
We have a huge variation of workouts for you to try in our library of on-demand fitness and yoga videos.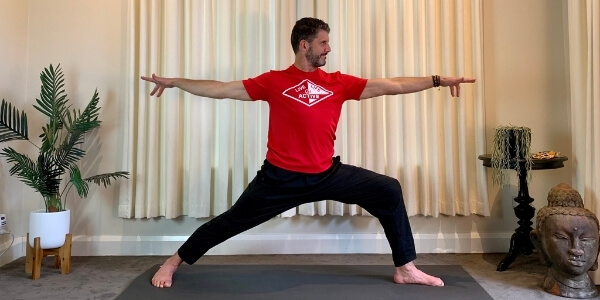 If you need a place to start, why not check out the Live Life Get Active FREE live-stream workouts? Our trainers will help motivate you and guide you through fitness and yoga sessions in your living room or backyard!
We've got everything you need to stay active so login and book your active training, yoga class and meditation either in the park or online now.
Not a member? Register now for FREE access to outdoor and online fitness classes, live guided meditations, wellness videos, recipes and more!
Live Life Get Active is a registered health promotion charity that offers FREE outdoor activity camps and wellbeing and nutritional programmes to help address obesity, diabetes and mental health. Our vision is to build fitter, healthier and happier communities right across Australia. Our in-park offering is supported by a comprehensive digital offering.
References:
Australian Department of Health: https://www1.health.gov.au/internet/main/publishing.nsf/Content/health-pubhlth-strateg-phys-act-guidelines
Harvard Health: https://www.health.harvard.edu/staying-healthy/the-importance-of-stretching