Why Protein & Muscle Mass Maintenance is Essential
Protein and regular exercise are essential for building and maintaining your muscles (your muscle mass).
We aren't saying you need to have bulging biceps! Just a healthy amount of muscle that results from a healthy amount of high protein foods and physical activity – i.e. participating in at least 3 LLGA classes per week!
Muscle mass has benefits like helping your body burn more fat, making you stronger and helping to prevent the risk of diabetes and heart disease. They are a bit of a powerhouse inside our bodies!
We can't stress enough how important it is to maintain your muscle mass from a balanced diet and regular exercise throughout your life.

Why maintaining muscle mass is essential as we age.
As part of the ageing process, unfortunately, your muscle mass naturally declines.
It is therefore important to maintain your muscle mass with regular exercise and healthy food to ensure you have enough strength for movement and mobility as you age.
If your body has low muscle mass then you're far more prone to falls and injuries with longer recovery times. This can lead to a loss of your independence when you're older.
Also, having a bit of muscle and strength will make day to day tasks much easier such as lifting shopping bags and doing household chores as you age.
Maintaining a good amount of muscle mass will improve your quality of life as you age, and keep you feeling strong and independent for longer!

Why protein is important for maintaining muscle mass.
Protein helps build, maintain and recover your muscle mass after exercise.
Our bodies cannot make protein itself so we MUST get it from foods!
How do I make sure I'm getting enough protein from my food?
This can be easily achieved if you have high protein foods regularly throughout the day.
What are high protein foods?
High protein foods include meat, poultry, seafood, tofu, dairy, legumes, nuts and seeds.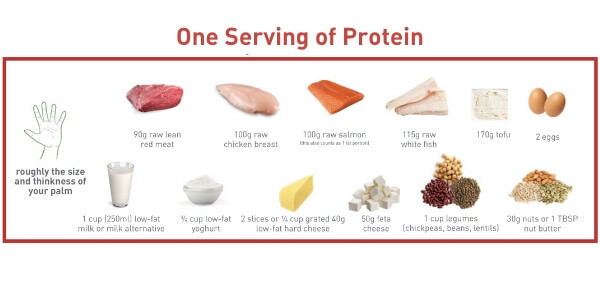 Try to have a protein source in every meal and snack that you make.
Look how easy it is to get enough protein in a day:
Breakfast – yoghurt, with muesli and nuts
Lunch – salad sandwich with hummus and cheese
Snack – apple and peanut butter
Dinner – fish with baked potato chips and salad
There are also small amounts of protein in all grains and vegetables, so as long as you're having well-balanced meals, you will find it's very easy to get enough protein!
Make sure you download your nutrition plan to see how many servings of protein your body needs each day.
Check out this week's protein packed recipe, perfect to help build and maintain your muscles!
Cajun Fish with Rice Salad
Serves: 4 Time: 25mins Cost: $20 approx. ($5/serve)
4 white fish fillets
2 TBSP Cajun seasoning (or see below how to mix a homemade Cajun seasoning)
1 cup cooked brown rice (or 2 packets of microwaveable brown rice to save time)
1 broccoli
¼ cup sundried tomatoes
½ bunch fresh parsley
1 can kidney beans
1 fresh lemon, juiced
2TBSP olive oil
salt and pepper
Method
blanch broccoli: boil kettle, chop broccoli into thin slices, place in hot water, leave for 2 mins then rinse with cold water. Put aside.
roughly chop sundried tomatoes, finely chop parsley, rinse kidney beans.
mix cooked rice with broccoli, sundried tomatoes, parsley, beans, pinch of salt & pepper. Stir through olive oil and lemon juice, put aside.
heat a drizzle of olive oil on medium to high heat on a fry pan.
dip fish fillets in Cajun spice.
Pan fry fish 2-3 mins each side.
Serve with rice salad!
Homemade Cajun seasoning
2 tsp paprika
¼ tsp cayenne pepper
1 tsp oregano
1 tsp garlic powder
½ tsp salt
½ tsp pepper
Sources
https://www.ncbi.nlm.nih.gov/pmc/articles/PMC4066461/
https://pubmed.ncbi.nlm.nih.gov/21778224/#:~:text=Conclusions%3A%20Across%20the%20full%20range,mass%20on%20incidence%20of%20diabetes.
https://www.ncbi.nlm.nih.gov/pmc/articles/PMC6566799/
https://www.ncbi.nlm.nih.gov/pmc/articles/PMC3661116/
https://www.ncbi.nlm.nih.gov/pmc/articles/PMC4889643/