Top 5 High Calcium Foods For Stronger Bones & Better Quality of Life
Bone density naturally declines in men and women as a part of the process of getting older.
Did you know women lose 10% of their bone mass in the first five years after they hit menopause?
This puts women at risk of developing osteoporosis, a condition where bones become thinner and can fracture easily. 
1 in 2 women over the age of 60 years will experience a fracture as a result of osteoporosis. Fractures can be debilitating due to loss of independence and overall affects quality of life with age.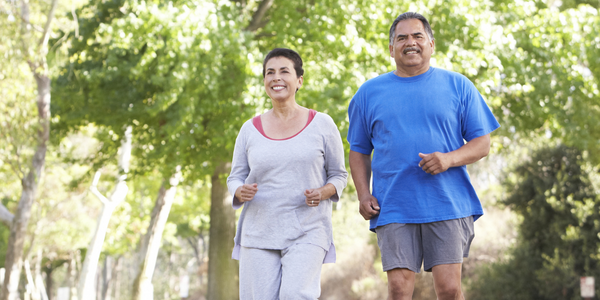 There are things you can do to prevent bone weakness and stay strong! Regular exercise and eating the right foods will set you up for a strong & high quality life.
The most important nutrients for bone health are calcium and Vitamin D as they are involved in building and maintaining stronger bones.
Here are the best foods to eat daily to increase bone strength:
5 foods high in calcium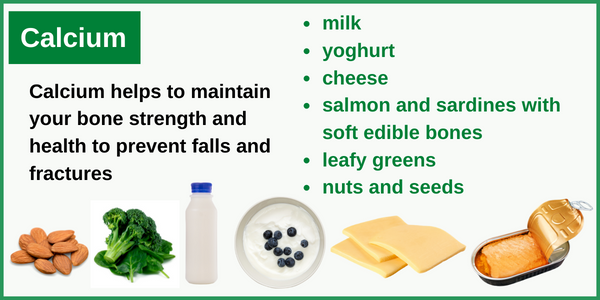 Here are the recommended calcium intakes:
Female adults under 50: 1,000mg per day

Female adults over 50: 1,300mg per day

Male adults over 70: 1,000mg per day

Male adults over 70: 1,300mg per day
Dairy products
Examples include milk, yogurt and cheeses.
1 cup milk = 300mg 

200g tub of yoghurt = 300mg calcium

40g cheese = 280mg
Leafy Green Vegetables
Examples include broccoli, cabbage, Asian greens, spinach
1 cup cooked spinach = 100mg

1 cup cooked broccoli = 45mg

½ cup Chinese cabbage cooked = 65mg
Soy and Tofu
Examples include tofu, tempeh and calcium fortified soy milk
1 cup of tofu = 832mg

1 cup of tempeh = 868mg 

1 cup of calcium fortified soy milk = 300mg
Fish
Examples include canned salmon and sardines
Half cup of canned salmon = 403mg

Small can of sardines =450mg
Nuts and Seeds
Examples include almonds, brazil nuts, sesame seeds, tahini paste
15 almonds = 40mg calcium

1 TBSP tahini paste = 50mg

3 brazil nuts = 20mg

1 TBSP sesame seeds = 10mg
Don't forget Vitamin D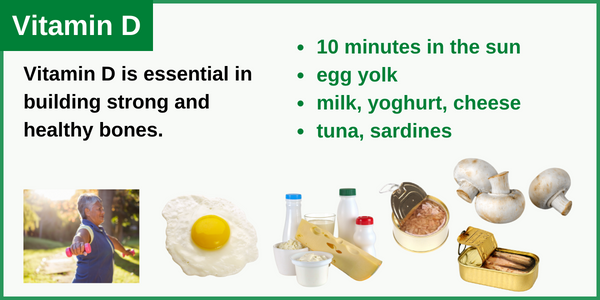 Vitamin D also plays an essential role in bone strength. The best way to get Vitamin D is to get 10 – 30 mins of sun on your skin every day (don't stay out too long though remember to be sun safe!)
There are some foods that contain small amounts of Vitamin D so you can try to squeeze some of these into your day.
Eggs

Dairy products

Tuna, sardines

Mushrooms
Here are some yummy breakfast recipes for you to try to increase your calcium and vitamin D intake
Blueberry & Walnut Baked Oatmeal
Eggs & Avo on Sweet Potato 'Toast'
Download our family healthy eating plan to find a 7-day meal plan full of yummy healthy eating or login to download your personal nutrition plan to help create a healthier eating pattern. This is FREE to all members.
Not a member? Register now for FREE access to outdoor and online fitness classes, live guided meditations, wellness videos, recipes and more!
Live Life Get Active is a registered health promotion charity that offers FREE outdoor activity camps and wellbeing and nutritional programmes to help address obesity, diabetes and mental health. Our vision is to build fitter, healthier and happier communities right across Australia. Our in-park offering is supported by a comprehensive digital offering
Sources:
https://www.betterhealth.vic.gov.au/health/conditionsandtreatments/menopause-and-osteoporosishttps://www.nrv.gov.au/nutrients/calcium
https://www.betterhealth.vic.gov.au/health/healthyliving/calcium