Welcome to the Live Stream - Wellness camp, which is located in the suburb of , part of the Local Government Area. The camp is funded by and has been running since July 2020.
The Live Stream - Wellness class is a free fitness camp open to all members of the public. There are the following activities on offer, Guided Meditation, Mental Health Yoga, and you can learn more about them below.
Sessions are available at 12:15 pm, 8:00 pm and run Wednesday, Thursday during school terms. For more details see the timetable below.
How to get started
To join this camp all you have to do is complete our registration form and book into as many classes as you like. All our classes are FREE and Registration takes about 10 mins. Click the button below to start.
There are no joining fees, no class fees, everything we offer is free.
JOIN + BOOK NOW
SESSION TIMES - Mon 30th Nov to Sun 6th Dec
Address: This is a virtual location. All classes are AEDT.
Live Stream - Wellness'S TRAINERS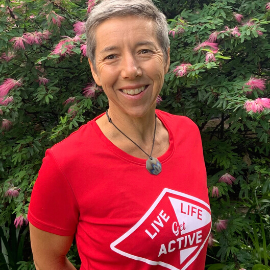 I am CaroIyn from Umina. I discovered yoga in my mid 20s. While working insane hours in hospitality, yoga provided a way to self care and balance the hedonistic lifestyle endemic in inner city restaurants. But it is in my journey of parenthood that I have really understood the infinite resources and gifts from yoga. Wisdom says that to learn something deeply, teach it. Teaching means I get to share and assist my community but also drives my daily personal practice and learning. Growing as a mother, person, teacher and student. I love teaching yoga with LLGA because I get to share this amazing life science with our broader community - there are no stereotypes within the LLGA community and I have been a student of many different teachers, and so offer a broad range (strong flow, gentle movements and to share with the Umina Beach Camp - and beyond.
Learn more about Carolyn Glover »