8 reasons why you should do cardio everyday
The end of the year is coming, but that's no reason to slow down on your exercise – particularly when it comes to cardio.
Whether you are looking to burn calories, lose your winter weight or reduce the chance of heart disease or diabetes, getting your sweat on through cardio is a great way to do it.
So get out there and get moving! What is cardio exercise?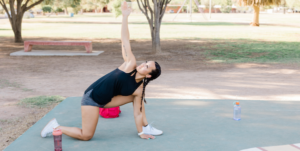 Cardio exercise, also known as aerobic exercise, refers to the types of physical activity that increase your heart rate, your breathing deepens and you repeatedly use the large muscles in your body – such as those in your legs, arms and buttocks.
Some examples of cardio exercises include activities like walking, swimming, running, cycling, dancing, kickboxing, hiking, HITT classes… the list goes on. It's all about finding the type of exercise you enjoy and what makes you feel good!
Just be sure that each week you aim to get around 150 minutes of moderate aerobic exercise in or 75 minutes of vigorous aerobic exercise, it's really up to you and what suits your schedule.
Need somewhere to start? Give Sam's HIIT boxing session a go, Caitlin's supercharged cardio workout a try or Jazza's cardio AND boxing session your best effort!
The benefits of cardio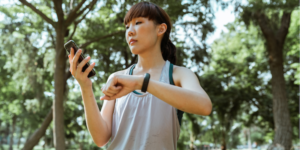 By doing cardio exercise regularly, you are maximising the amount of oxygen that is passed throughout your body while you workout, which ultimately helps you use that oxygen more efficiently – such as through your lungs, heart and blood vessels.
As you get better at the cardio exercise and more fit the more intense you can make the workouts, and the better you'll get at using oxygen efficiently. With than in mind, there are a range of benefits to embedding cardio into your weekly exercise routine, such as:
Strengthens your muscles
Good for your cardiovascular health by reducing risk of high blood pressure and heart disease
Burns calories and helps with weight loss
Boosts your mood as it releases the natural feel-good chemical and painkiller, endorphins
Helps you sleep better
Helps prevent diabetes
Can reduce joint tightness and arthritis pain
Increased circulation for clearer and healthier skin
5 tips to getting the most out of your cardio workout
There are a bunch of ways to get maximum benefit from your cardio workout. Here are our five top tips for ensuring you get the best possible results:
1. Start slow
If you're new to cardio, it's crucial that you don't go too hard too fast. Don't be afraid to start small and gradually build your way up. For example, your goal might be to run for half an hour – start off by walking then gradually introduce running by first running for 5 minutes and then walking the other 25 minutes. Keep increasing the length of time you run and reduce the time you walk and before you know it you'll be running the full half hour!
2. Do it with a buddy to stay motivated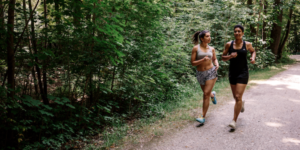 Does getting up and working out alone sound like something you'll get over quickly? That's an easy fix, do your cardio workout with a friend or family member. Not only will this help keep things interesting and fun, it'll keep you accountable which will ensure you get enough cardio into your weekly exercise routine. Our buddy blog covers the best ways to get another person involved in your fitness journey to keep you motivated, check it out here.
3. Eat clean to fuel your body for a better workout
Make sure you are getting a balance of fruits, veggies, proteins, grains, cereals and dairy (or alternatives) into your diet. By fuelling your body with good, nutritious and delicious foods you are increasing your body's potential to perform better while you workout. You can check out our range of healthy recipes created by our in-house nutritionist here for some meal inspiration!
4. Stay hydrated
Another key piece of the puzzle is getting enough water into your body to avoid dehydration when you exercise and throughout the day. Aim to drink around 8 to 10 cups of water per day and remember, your body will let you know when it's thirsty so don't ignore it – drink up!
5. Put time aside for rest and don't forget to stretch
Letting your body recover from an intense cardio workout gives it time to rejuvenate and revitalise. By choosing rest days between workouts and stretching after exercise and on your rest days, you reduce the risk of injury as well as increase the chance of your body performing well the next time you exercise. Just remember, only take one rest day at a time – any longer and you risk falling off the bandwagon, and you don't want to undo all your hard work.
Give Hannah's 10 minute Dynamic Stretching video a try to guide you through beneficial movements for your body before or after a workout.
WANT TO START FEELING GOOD BUT NOT A LIVE LIFE GET ACTIVE MEMBER?
Fill in our registration form to become an online member here and gain access to FREE Pilates, Tai Chi, Meditation, Fitness, Yoga and Nutrition programmes.
We've got everything you need to stay active so login and book your active training, yoga class and meditation either in the park or online now.
References
Headspace: https://www.headspace.com/articles/rest-days-transform-training
Health Direct: https://www.healthdirect.gov.au/balanced-diet
https://www.healthdirect.gov.au/drinking-water-and-your-health
Mayo Clinic: https://diet.mayoclinic.org/diet/move/cardio-101
https://www.mayoclinic.org/healthy-lifestyle/fitness/basics/aerobic-exercise/hlv-20049447
https://www.mayoclinic.org/healthy-lifestyle/fitness/in-depth/aerobic-exercise/art-20045541
Harvard Health Publishing: https://www.health.harvard.edu/exercise-and-fitness/the-4-most-important-types-of-exercise Cleveland Clinic: https://health.clevelandclinic.org/the-many-benefits-of-a-cardio-workout/