Homemade vs Takeaway: Crispy Chicken
Did you know that mouth-watering crispy chicken can be made at home, baked in the oven and with healthy ingredients?
Although takeaways are convenient and taste yummy – the reason they are so tasty is because of the fats, sugars, salts and other additives in them which can negatively impact our health.
We recommend making delicious versions of your favourite takeaways using wholesome and fresh ingredients – they will make you feel good from the inside out.
Takeaways are okay to have on the odd occasion, but it's so important to mainly be filling your bodies with nourishing foods for a happier and better quality life. The food you put inside has such a big impact on your mental health and physical health.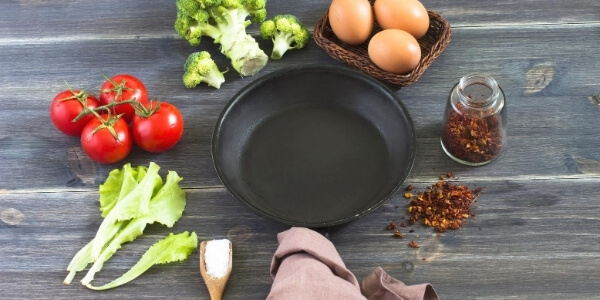 Did you know?
That in just 1 serving size of a fried chicken takeaway there can be:
OVER HALF the amount of the average Australian's DAILY Kilojoule allowance.
more than your DAILY limit of salt.
MORE fat than you need in ONE day
Just in one meal!
What's the Difference:  Homemade Crispy Baked Chicken vs Takeaway Crispy Fried Chicken
Check out the difference between one serving of our 'Crispy Baked Chicken Tenders' vs one serving of a takeaway 'Fried Chicken Tenders.'
Please note that 'one serving' of fried chicken tenders includes 3 small tenders – you are most likely going to eat a lot more than 3 small pieces of chicken from a takeaway outlet. Not only does cooking at home use healthier ingredients, it helps with portion control.

Kilojoules (calories)
When trying to lose or maintain weight a meal should be around 2000 kj
Takeaway Chicken Tenders:  1,696 kj          Homemade Chicken Tenders: 1,072 kj
Takeaway Fried Chicken Meal: 4,543 kj      Homemade Crispy Chicken Meal: 1,700 kj
The verdict: One serving of the takeaway chicken tenders alone virtually has the same amount of kilojoules as our  whole homemade chicken tender meal. Remember your meals should be made up with lots of veggies alongside the protein and fat portions.
The daily kilojoule allowance for an average Australian is 8,700 kj. The Takeaway chicken meal has over half of this allowance. The added fats and sugars, plus the large serving size, account for this extremely large amount of energy – also there are no colourful veggies included in the takeaway meal!
Fat
For weight maintenance and lower risk of heart disease, fat should be kept under 20 g per meal (remember the quality of fat is just as important as the quantity).
Takeaway chicken tenders:  28.1 g             Our chicken tenders: 11.3 g
Takeaway Fried Chicken Meal: 54.7 g       Homemade Crispy Chicken Meal: 13 g
The Verdict: The Takeawaychicken tenders alone have more than the recommended fat in one serving and the meal has nearly 3 times the recommended amount. Plus, these fats come from unhealthy, highly processed oils!
The fat from our meal comes purely from the natural juices in the chicken, plus the small amount of extra virgin olive oil used, which has positive health benefits.
Salt
To keep your blood pressure stable and lower your risk of chronic disease, salt, or sodium should be less than 500 mg per meal and less than 2,000 mg per day
Takeaway chicken tenders:  865 mg             Our chicken tenders: 150 mg
Takeaway Fried Chicken Meal: 2,151 mg     Homemade Crispy Chicken Meal: 260 mg
The Verdict: The three takeaway pieces of chicken alone have well over the recommended meal allowance for salt. The Takeaway chicken meal has over the daily allowance. This is far too much salt for good health. If you look at our chicken tenders, they have a healthy amount of salt and still taste delicious!
Check out the recipe for our mouth-watering, yet healthy chicken tenders that are made crispy on the outside with our secret ingredient!
Weekly Recipe
Crispy Chicken Tenders
Serves: 4 Time: 25mins Cost: $13.50 approx.  (3.40/serve)
Ingredients:
400 – 450g chicken tenders (or breast cut into tender-sized pieces)
1 egg
1 cup of cornflakes, crushed finely (we used a food processor otherwise use your hands, potato masher, or rolling pin)
2 TBSP plain wholemeal flour
1 tsp garlic powder
1 tsp paprika
1 tsp oregano
400-500g bag of coleslaw
2 TBSP extra virgin olive oil
pinch of salt and pepper
Creamy Sauce:
3/4 cup natural or Greek yoghurt
2 TBSP honey
1 tsp dijon mustard
1/2 tsp garlic powder
Method:
preheat oven to 180°C (fan-forced) and line a tray with baking paper.
lightly whisk the egg in one bowl
in another bowl, mix together crushed cornflakes, flour, garlic powder, paprika, oregano and Slat and pepper.
Dip the chicken tenders into the egg then into the cornflake mixture until fully coated.
place chicken on baking tray and drizzle with the olive oil.
bake for 10mins, turn the chicken pieces over, then bake final 8mins.
mix the sauce ingredients together
mix the most of the sauce with the coleslaw – save some to dip the chicken tenders in.
Serve chicken with creamy slaw and dipping sauce!
Other serving suggestions:
turn these into wraps using wholemeal wraps.
serve with veggies, mashed potato and gravy.
turn these into tacos and serve with small tortillas and guacamole.
Download our family healthy eating plan to find a 7-day meal plan full of yummy healthy eating or login to download your personal nutrition plan to help create a healthier eating pattern.
Not a member? Register now for FREE access to outdoor and online fitness classes, live guided meditations, wellness videos, recipes and more!