| | |
| --- | --- |
| | |
LOOKING FOR FREE, PROFESSIONALLY GUIDED, VIRTUAL MEDITATION SESSIONS?
As part of Live Life Get Active's updated online offering, all of our members have unlimited access to live stream guided meditation, yoga and fitness.
Don't worry, if you aren't a member, it is completely free and easy to register. We charge no joining fees, no class fees or hidden fees.
This is because as a charity, it is our mission to ensure everyday Australians can enjoy the benefits of physical exercise, no matter their circumstances.
What can you expect from a Guided Meditation class?
Our guided meditations are run by our wonderful and experienced Wellness Coach, Michael Dever.
Michael uses simple mindfulness and meditation techniques to help ease anxiety, improve relaxation, improve sleep, build resilience and create a positive mindset, amongst many other benefits.
These soothing sessions are guaranteed to have you feeling as if you're floating away in the clouds.
Want to know more about what to expect from Michael? Watch this quick clip to see what to expect from one of Michael's classes.
When are these classes available?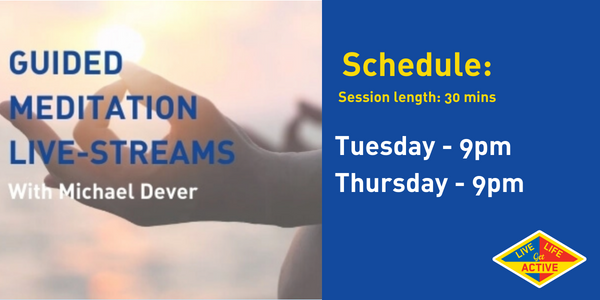 We are continually adding new times as we develop our offering and listen to the feedback of our members. So please reach out if you would like to see more sessions or different times.
Who can access these classes?
Unlike our on-demand videos that you can find here, you will need to become a member to access these classes. You can become a member at the bottom of the page.
The good news is that it is completely free to become a member and all you need to do is take our 10-minute registration.
Once I am a member, how do I book in?
These classes can be enjoyed anywhere you have an internet connection and it's as simple and easy as logging into your account and booking a spot.
Each session time can cater up to 40 individuals and is held on Zoom, if you haven't used this program before, don't stress, you do not need to create a Zoom account.
The process is super easy and we have found that even the least "techy" individual can easily book in and enjoy.
2. select "'@livestreams"
Once booked in we send you a link via email to access the 30-minute class.
Are the classes suited for anyone?
Our meditation sessions will benefit those who have never meditated before to those who meditate regularly.
If you are not a member and would like to enjoy these free sessions from the comfort of your own home, simply register via the button below.
There are no joining fees, no class fees, everything we offer is free.