What To Eat Before A Workout To Get The Best Results
It's important to fuel your body
It's important you have the right fuel in your body before exercise.  This is to ensure you have enough energy to perform at your best ability as well as prevent you from feeling light-headed, dizzy, nauseated and fatigued – particularly during high-intensity workouts.

How long before a workout do I eat?
You need to give your body enough time to digest the food and absorb the nutrients it needs so they are ready to help you power through your workout! Eating too soon may aslo result in tummy cramps or reflux.
Try to eat a light meal or snack at least 90 – 30 mins before your workout.
If you have a main meal before your workout, give yourself at least 2 hours for it to digest. 
"but I exercise first thing in the morning and don't feel like eating that early"
You may find you are okay to exercise first thing in the morning, without having anything in your stomach. But, if you do find you don't quite have enough energy or feel light-headed, a small snack like a banana as soon as you wake up might just give you that extra boost to make the most of your workout.
What are the best foods to eat before a workout?
Your snack should contain mainly carbohydrates and protein. Carbohydrates are the primary fuel source your body needs to exercise. A small amount of protein will assist in muscle recovery during your workout.
Your snack shouldn't be too high in fat because fat takes longer for your body to digest – you don't want it sitting in your tummy during your workout making you uncomfortable!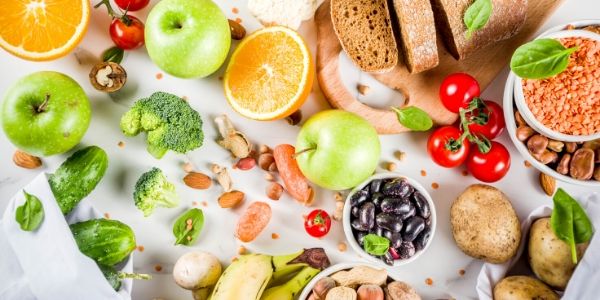 10 of the best pre-workout foods:
wholegrain toast or sandwich
greek yoghurt and fruit
banana
nuts and seeds
oats or wholegrain cereal
smoothie
crackers and hummus
muesli bar
chickpeas, beans, lentils
pasta or rice
And don't forget to drink water so you are hydrated for your workout!
Check out these 6 simple and speedy pre-workout snacks that you can whip up to make the most out of your LLGA classes!

Peanut Butter Banana Toast
1 slice wholegrain toast
1 TBSP peanut butter
½ sliced banana
Spread peanut butter over toast and top with banana.
Energy balls
1 cup oats
¼ cup honey
¼ cup peanut butter
¼ cup sultanas
¼ tsp cinnamon
pinch salt
Mix all ingredients, roll into 10 balls, refrigerate.
Enjoy 1 ball before a workout.
Granola & milk
1 cup oats
1 cup mixed nuts and seeds
¼ cup honey
2 TBS extra virgin olive oil
¼ tsp cinnamon
pinch salt
low fat milk
Preheat oven to 170oC, mix all ingredients and add to baking tray, bake for 16mins mixing half way.
Serve ¼ cup muesli with milk.
Berries & nuts with yoghurt
½ cup low-fat Greek or natural yoghurt
handful berries
handful mixed nuts and seeds
Serve berries and nuts over yoghurt.
Hummus & vege rice cakes
1 rice cake
1 TBS hummus
handful sliced cucumber (or vege of choice)
Spread hummus over rice cake and top with vege.
Cheese & vege egg muffins
5 eggs
¼ red onion, finely chopped
1 tomato, diced
¼ cup grated low fat cheese
pinch salt & pepper
oil spray
Preheat oven to 180OC, grease 6 muffin holes on a muffin tray with oil spray.
Place tomato, onion & cheese evenly over muffin holes.
Beat eggs with a fork, add salt and pepper, then pour evenly over vege and cheese.
Bake 18-20mins, until golden.
Enjoy 1 muffin before a workout
Sources:
https://www.sportsdietitians.com.au/factsheets/fuelling-recovery/eating-drinking-sport/