Fact or Myth – Type 2 Diabetes and Food
Let us bust some myths when it comes to food and Type 2 diabetes for you.

Myth #1 – Fruit is high in sugar so should be avoided
Although fruit tastes sweet, it is a form of natural sugar that is accompanied by lots of fibre and antioxidants which are disease preventing! Remember to eat fruit in its whole form. Have 2 or 3 pieces across the day.
Myth #2 – Sugar causes diabetes
Eating sugar is not the cause of diabetes. Eating too much sugar or any foods that are also high in unhealthy fats and salt can increase your risk of developing diabetes, especially with an unhealthy weight. Processed foods high in added sugars can be enjoyed in small amounts here and there.

Myth #3 – People with diabetes can't eat carbs
Wholegrain carbohydrates are a part of a healthy diet for everyone. Foods like brown grainy breads and oats are full of fibre and vitamins which provide many health benefits. People with diabetes or pre-diabetes should eat servings of wholegrains relevant to their activity levels and minimise processed foods high in refined carbohydrates, just the same as everyone else!
Myth #4 – Only overweight people can get diabetes
Although being overweight is one of the biggest risk factors for type 2 diabetes, it is not the only one! Genetics, age and ethnicity are out of your control, so to minimise your risk, ensure you exercise regularly, eat healthy and maintain your stress levels!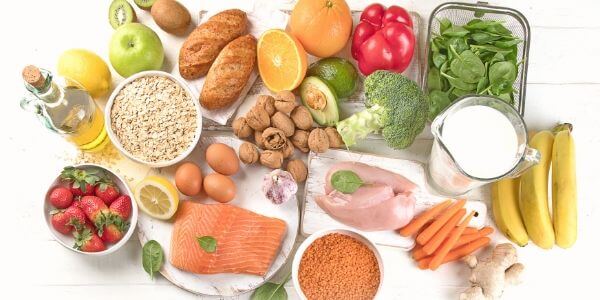 People with diabetes should follow the Australian Dietary Guidelines and eat mainly fruit and vegetables, some wholegrain carbohydrates, some lean protein and a small amount of healthy fats.
This is how we should all be eating to stay healthy and prevent our risk of diseases like diabetes, heart disease and some cancers.
Download your nutrition plan to see get an idea of what healthy eating looks like for you.
Remember, if you are living with diabetes, then you should consult your health professional or a registered dietitian before making any changes to your diet.
Check out this week's diabetes friendly recipe packed full of veggies and fibre!
Easy Stuffed Eggplants with Tzatziki
Serves: 4 Time: 45mins Cost: $18.50 ($4.70/serve)
2 eggplants
1 cucumber
2 tomato
1 red onion
1 lemon
¼ cup dill
¼ cup olives
1 can diced tomatoes, drained
1 can chickpeas
½ cup Greek yoghurt
1 block (200g) feta (or 1 cup grated hard low-fat cheese)
extra virgin olive oil
Instructions
Pre-heat oven to 180oC, line baking tray.
Slice eggplant in half, and slice diagonal lines across each eggplant face (approx. 1cm deep).
Bake for 20min.
Meanwhile, heat pan over medium heat with olive oil.
Add canned tomatoes, chickpeas, olives, season with salt & pepper and cook for 5mins.
Scoop out centre of eggplants leaving about a 1cm rim, then add eggplant flesh to tomato mixture.
Spoon the tomato mixture into eggplant boats then sprinkle with crumbled feta.
Bake for 20min.
Salad: dice cucumber, tomato and red onion, then drizzle olive oil, squeeze half a lemon, season with salt & pepper.
Tzatziki: Finely chop dill, mix with Greek yoghurt and a big squeeze of lemon juice.
Serve!
If you'd like to receive our free nutrition plan and attend one of our free fitness sessions come and join us.
REGISTRATION/SIGN-UP
Do I need to sign-up?
Yes, you need to register with Live Life Get Active.
You must also book in for every session you want to attend.
I'm having troubles when registering, can you help?
If you cannot complete the sign-up process, please contact our Help Desk to resolve the issue.
Sources:
www.diabetesaustralia.com.au