How Exercise Can Help You Both Physically And Mentally
Managing stress and anxiety with a healthy lifestyle
It is important to take time for yourself and  do things that will help improve our wellbeing. These include things like regular exercise, healthy eating and making sure we take time to relax our minds.
Exercise is crucial to your mental health just as much as your physical well-being. In almost any form, exercise can act as a stress and anxiety reliever. Being active can boost your feel-good endorphins and distract you from daily worries. 
You don't have to be fitness fanatics to see and feel the benefits of exercise. Whatever your age or fitness level, you can use exercise to change your life for the better.

Is it time to get active?
Breaking through the first stage of routine exercise can be hard, especially if you are not used to it. But the more you do it, the more you enjoy it, and it eventually becomes a necessary part of your happiness.
Staying physically active will bring remarkable changes to your body and mind. The positive effects of exercise will be felt early on as you notice a lift in your mood and more clarity in your thoughts. You will also feel a sense of pride and achievement as you start to see a healthy physical glow.
When your body is busy, your mind is distracted. Even a short stroll helps to clear your mind and reduce stress. Studies have shown that exercise works quickly in alleviating stress in people and the positive effects can be long-term.
How do you know exercise will help you to manage stress?
There are several ways in which exercise promotes stress and anxiety relief. When you are stressed, your body releases cortisol and adrenaline in levels you don't always cope with. This leaves you feeling anxious and sends your mind into overdrive.
It is exhausting and it depletes your ability to think clearly.
Believe it or not, exercise is actually a powerful pick-me-up that can make you feel more energetic. It all comes down to endorphins, or 'happy hormones' – the most natural way to find relief from stress. Any form of exercise will produce endorphins and will leave your body feeling calm and energised.
Not only does exercise completely refocus your mind and make you more aware of what you are doing, the endorphins you release will help you to maintain a more positive outlook afterwards.
As you learn more about the positive effects of exercise, you will understand why it can be so beneficial for your mental health.

Finding time and motivation
The good news is that you don't need to spend hours at the gym each day to reap the benefits of exercise.
A short walk each day is better than nothing at all. Start off by adding one cross-training class and one yoga class to your week. As you start to feel the benefits you are bound to add more classes to your regime.
With your mind completely focused on the exercise, you will be removed from the situation causing you stress.
Successfully manage stress in three simple steps
Set small, daily goals. It's better to walk every day for 20 minutes than wait for the weekend and workout for three hours. Frequency and consistency are key
Find forms of exercise that are enjoyable and fun! Discover the kinds of exercise that you think would be fun, as you will be more likely to be consistent with exercise if you look forward to it.

Recruiting an exercise buddy, someone who has similar goals to yourself might be just the motivation you need to stay committed. It's also rewarding to have someone on board who you can share your successes with.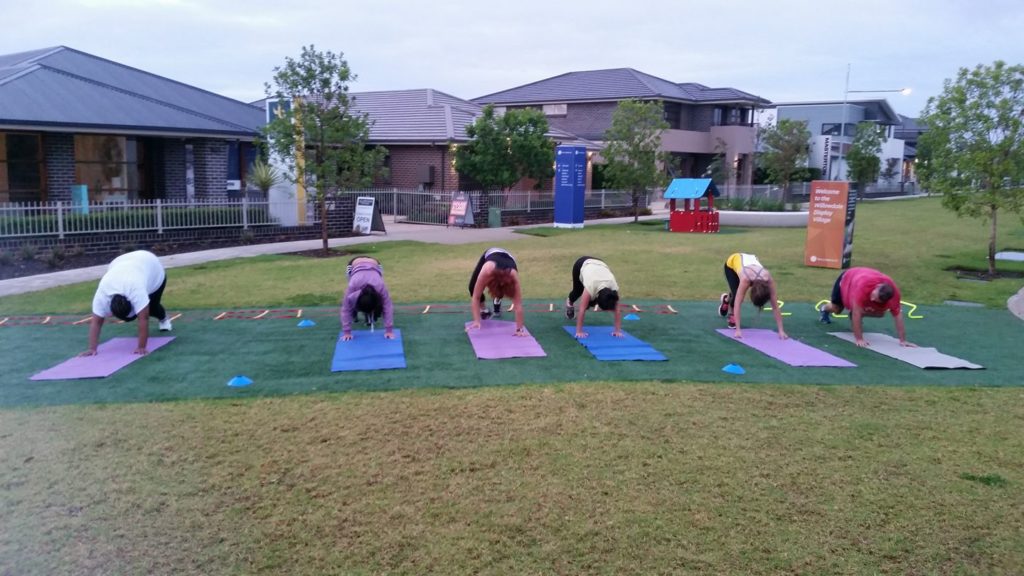 Feel the positive effects of exercise by trying one of the many online videos we've got just for you!
Tackle stress head-on with Rada's Cardio HIIT workout, breathe away those negative thoughts with the help of Tracy's Positive Intentions Yoga, or clear your mind with Michael's Calming the Nervous System meditation. Whatever form of exercise, our friendly and experienced trainers will help you find stress relief in the healthiest possible way.
WANT TO START FEELING GOOD BUT NOT A LIVE LIFE GET ACTIVE MEMBER?
Fill in our short registration form to become an online member here (link) and gain access to FREE Pilates, Tai Chi, Meditation, Fitness, Yoga and Nutrition programmes.
Fill in our short registration form to become an online member here and gain access to FREE Pilates, Tai Chi, Meditation, Fitness, Yoga and Nutrition programmes.
We've got everything you need to stay active so login and book your active training, yoga class and meditation either in the park or online now.