5 Exercises To Love Your Lower Body
With summer well and truly behind us, it's no time to let the sun set on your workout routine.
In fact, what better time than right now to start loving your lower body?
And we aren't just talking about your booty… think thighs, hamstrings and calves too. So, whether you hit the gym for leg day, smash through a few rounds of squats or do a Pilates session focussed on lower body, it all counts towards your overall health and fitness.
But wait, why exactly do you need to exercise your lower body?
There are a bunch of benefits to exercising your lower body. Here are some of the results you might see:
Increased bone strength
Muscle gain
Improved balance
Boosted stamina
Increased confidence
Lessened physical weakness
Reduced risk of falling
Decreased knee injuries
Lowered pain levels
Reduced hip injuries
How to exercise your lower body
Whether you have 15 minutes or an hour, exercising your lower body doesn't need to be overly hard, it's all about finding the right exercise routine for you.
And remember, you don't need to commit an entire workout to your legs – you may just want to add some extra things to what you already do.
Give these exercises a try:
Squats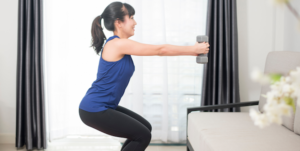 Squatting is a great way to work your glutes and legs. Start standing with your feet hip distance apart, then lower your backside towards to floor until it is parallel with your knees. Hold, and return to standing – then repeat. For a little extra, you may want to give jump squats a go or try holding hand weights as you move. 
Try Nathan's 30min Box & Squat workout to get low and train your quads.
Step ups
Whether it's on a box at the gym, on a step or on a park bench, step ups are a wonderful option to get your lower body moving… and it's pretty simple. From a position with your feet firmly planted on the ground, all you need to do is place your left foot on the elevated surface and press down, bringing the rest of your body onto the platform. Return to the ground and rotate legs.
Lunges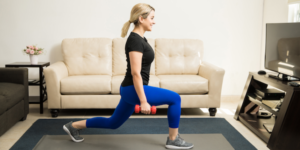 Another ol' faithful when it comes to working the lower body is lunges. As you did with squats, start standing with your feet hip distance apart. Bring your left foot forward and create a 90-degree angle with your calf and thigh (bent at the knee), lowering your body as your go. Then, return to a neutral position and rotate legs. Like squats you can take lunges to the next level by making them jump squats or using hand weights.
Give Nathan's Leg Workout a go, or Lauren's Yoga For Flexible Legs to tone and tighten.
Side leg raises
If floor exercises are more your tune, side leg raises might be a good one to try out to work your glutes and legs. Start lying on your side on the floor with your legs stacked. With your leg straight, raise your top leg towards the ceiling and then lower. Repeat this movement a few times then rotate to the other side.
Glute bridge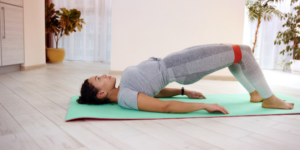 A glute bridge is another great option. This time, start lying on your back with your feet planted on the ground and your knees pointing towards the ceiling. Gently lift your hips towards the ceiling and hold at the top. After a few seconds, lower them back to the floor and repeat. For a little more, you could add a resistance band or do your bridge with one leg raised towards the ceiling (rotating sides).
Try Lauren's Glute Focused Pilates Workout to grow your glutes fast!
HAVE YOU FILLED OUT YOUR DIARY FOR THE WEEK?
Download your weekly planner and daily journal below to keep track of your journey towards a fitter, happier, healthier you !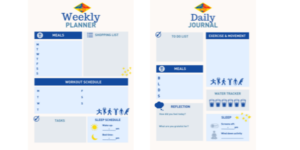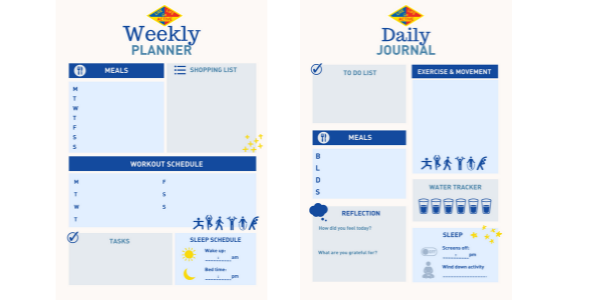 WANT TO START FEELING GOOD BUT NOT A LIVE LIFE GET ACTIVE MEMBER?
Fill in our registration form to become an online member here and gain access to FREE Pilates, Tai Chi, Meditation, Fitness, Yoga and Nutrition programmes.
We've got everything you need to stay active so login and book your active training, yoga class and meditation either in the park or online now.
References