Unexpected Foods that are Actually Healthy
Healthy eating is all about being more mindful of your food choices and portion sizes. It doesn't mean you have to cut out any of your favourite foods whether it be cheese or pasta.
It's about balancing healthy amounts of these foods with a good amount of vegetables, wholegrains, protein and healthy fats. Here are our best foods for healthy weight loss
Check out these unexpected foods which are actually a healthy part of a balanced meal – in the right portion sizes.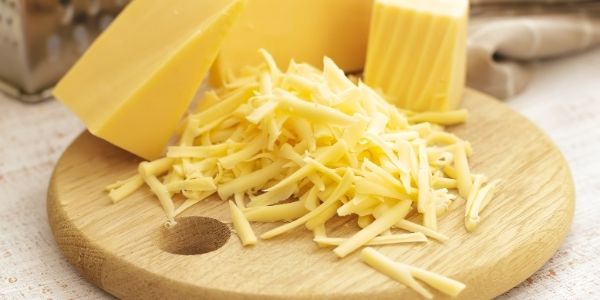 Cheese
Good news folks, cheese is nutritious!
It is high in protein which keeps you full and helps build and maintain your muscles after a workout.
It's a good source of calcium keeping your bones strong.
Cheese is high in fat which helps keep you full (and why it tastes so delicious), but this means it's high in kilojoules, which is where overindulging too much may lead to weight gain.
If you stick to your portion size, then you have consumed a perfectly adequate nutritious food.
Know your Portion size
40g which is 2 thin slices or about the size of your index finger

Bread and Pasta
Carbs are usually deemed as the enemy. This is just not the case! – if you select wholegrain options and eat a healthy portion size.
Wholegrain pasta and bread are full of vitamins and fibre which can help prevent diseases like diabetes and heart disease as well as assist with weight management.
White bread and pasta have the majority of these vitamins and fibre stripped from them! Make sure you choose your brown breads and pasta.
Know your portion size
Bread – 1 slice
Pasta – a cupped handful

Potatoes
Potatoes are also commonly accused of causing weight gain because they are 'high carb'. Please do not be afraid of the humble potato for it is very nutritious… if prepared properly!
Potatoes are actually made up of lots of water which makes them low in kilojoules. It's only when they are drenched in fats from oils, butter and cream that makes them high kilojoules and can lead to weight gain.
They are also high in vitamin C. One medium sized potato nearly gives you half of your recommended daily requirement!
They have lots of vitamin B6 which helps your nervous system, meaning they can help you feel calm!
They are packed full of fibre, keeping you full and helping to prevent some diseases.
Know your portion size
1 small potato – the size of your palm
We've also outlined our favourite tips for changing our relationships with food here. 
Remember:
Fill up your plate mainly with vegetables.
Meat portions should be the size of your palm.
Fats like cheese should be the size of your finger.
Wholegrain carbohydrates should be the size of a cupped handful.
Check out this week's recipe – a pub favourite made healthy!
Weekly Recipe
Serves: 4 Time: 60min Cost: $17 approx. ($4.25/serve)
Ingredients
2 chicken breasts (450g)
½ cup wholegrain breadcrumbs
1 teaspoon oregano
½ teaspoon garlic powder
½ teaspoon onion powder
¾ cup tomato pasta sauce/passata
½ cup mozzarella cheese
½ cup buttermilk
packet of coleslaw mix
1/2 tsp Dijon mustard
Juice of one lemon
¼ cup Greek yoghurt
4 medium size potatoes
Garlic powder
salt & pepper
1 olive oil
Method
Preheat oven to 180o
Slice potatoes into chips about 2cm thick.
Place on baking tray, drizzle with olive oil, sprinkle with garlic powder and a pinch of salt & pepper and mix with hands.
Bake on lowest levelled rack in oven.
Slice chicken breasts through the middle (so that the chicken breasts are half the thickness).
Bash breasts with a meat tenderiser or a can to make chicken even and thinner.
Mix breadcrumbs, garlic powder, onion powder, Italian seasoning, salt & pepper in a bowl.
Pour buttermilk in another bowl, dip breasts in buttermilk, then breadcrumb mixture.
Brush olive oil evenly over a baking tray, place breasts on tray and bake for 15mins.
Flip over chicken breasts and potato chips bake further 15mins.
Take Chicken out the oven, spoon over pasta sauce then sprinkle with mozzarella
Bake for a final 15 mins.
Mix Coleslaw with yoghurt, Dijon mustard and lemon juice
Serve all together!
Sources:
https://www.ncbi.nlm.nih.gov/pmc/articles/PMC5310957/
https://www.ncbi.nlm.nih.gov/pmc/articles/PMC3650512/
http://www.nutritionaustralia.org/sites/default/files/Cheese.pdf