3 Simple Steps to Eating More Mindfully
A distracted mind can lead to overeating
Are you constantly asking yourself "why can't I stop after one or two pieces of chocolate instead of devouring the entire block?" or "where did that giant bowl of pasta go? I barely remember eating it?"
We are quite often busy working or running around after kids, distracted by technology or worrying about the future. In other words, we are rarely living in the present moment. When it comes to food, this means it's easy to devour that block of chocolate or bowl of pasta, if at the same time we are working, distracted by the TV or scrolling through social media. All of a sudden the food is gone and we barely remember tasting it.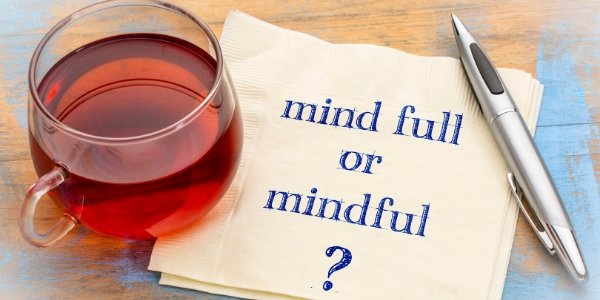 It's already easy enough to keep shovelling down snacks that feel 'addictive' because of the high amounts of sugar and salt in them. If you're also distracted by other things, then you're probably mindlessly eating through your food, without even realising how much you've demolished!
These three simple and mindful changes, can make the world of difference to how much you eat: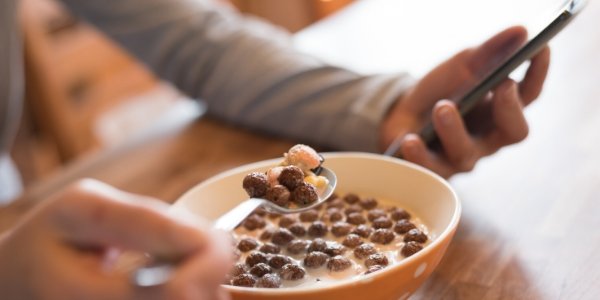 1. Eat without electronic devices distracting you.
Removing external distractions like the TV, your phone and your computer will help you focus on what you're eating and how much you're eating. This will help prevent you from mindlessly inhaling your meal or snacks.
2. Eat slowly
It takes a while for our bodies to register that we are full. If you eat slowly you will notice when you're starting to become full and less likely to overeat. Eating slowly will also make the whole experience more enjoyable as you will notice and taste the flavours more.
3. Focus only on your food and it's flavours
If you can focus on nothing else but what you're eating right in front of you, you will suddenly notice how many different flavours and textures your food has. It will make it that much more delicious as well as help slow you down.
Enjoy that special moment between you and your food!
Check out this week's healthy recipes, perfect for you to practice mindful eating with!
Chocolate Fruit Dip
½ cup low fat Greek yoghurt
1 TBSP cocoa powder
2 TBSP honey
pinch salt
fresh strawberries
banana
Mix yoghurt, cocoa, honey and salt together
Serve with fresh strawberries and banana
Avocado & Feta Dip with Baked Pita Chips
1 avocado
big squeeze of lemon juice
¼ block (50g) low fat feta
½ tsp salt & pepper
1 large wholemeal pita bread (or 2 small)
extra virgin olive oil
salt & pepper to season
preheat oven to 180oC, fan-forced
cut pita into triangles
place on lined baking tray, drizzle with olive oil, season with salt & pepper
bake for 8-10mins (until crispy)
mash avocado with fork
stir in lemon juice, salt & pepper
crumble and stir in feta
Serve with crispy baked pita chips
Crispy Baked Cauliflower
½ medium sized cauliflower
1 cup wholemeal plain flour
½ cup milk
1 tsp cumin
½ tsp salt and pepper
½ cup low fat Greek yoghurt
½ tsp crushed garlic
1 TBSP lemon juice
salt and pepper to season
extra virgin olive oil
pre-heat oven to 190oC, fan-forced
cut cauliflower into small florets
put flour and milk into separate bowls
mix cumin, salt and pepper into flour
dip cauliflower into milk, then flour. Place on lined baking tray
Drizzle with olive oil
Bake 25 mins, flip cauliflower florets over, then bake further 25 mins
Mix yoghurt, garlic, lemon juice, salt & pepper
Serve with crispy cauliflower
Peanut Butter Yoghurt Dip 
½ cup low fat Greek yoghurt
1 TBSP honey
1 TBSP peanut butter
apple
carrot sticks
mix yoghurt, honey and peanut butter together
serve with apple, carrot sticks or fruit of choice