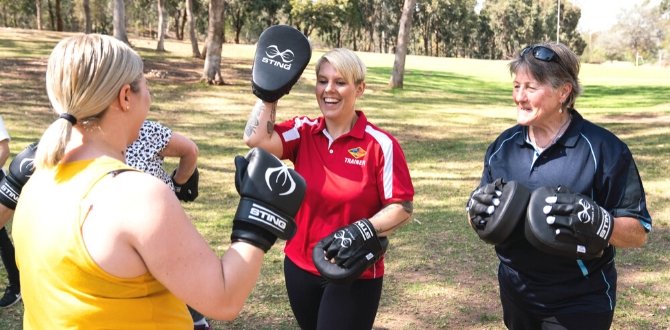 Working as a personal trainer for Live Life Get Active presents a range of amazing opportunities to not only further your career but also give back to the community.
Live Life Get Active run free outdoor fitness classes in communities across Australia. As such we employ hundreds of personal trainers from all walks of life.
What is Live Life Get Active all about?
Founded in 2014, Live Life Get Active is a health promotion charity with the vision of making Australia a fitter, healthier and happier place.
We strive to do so by providing all of our members with access to free cross-training, boxing and yoga classes in over 140 locations, Australia wide. On top of our activity classes, we also offer free nutrition plans, daily motivation and education around health issues.
What does it cost to be a member – nothing! Everything Live Life Get Active offers is free to our members. This is made possible by our wonderful sponsors and council partners.
How is it different from a normal personal trainer role?
Working for Live Life Get Active is the opportunity to use your knowledge and experience to help those who need it most. To guide individuals suffering from or at risk of developing serious health issues.
"I have been a personal trainer at Live Life Get Active for 5 years now and it has been a breath of fresh air" – Matt Green, Master Trainer.
It delivers a sense of achievement and fulfillment that working in a gym or traditional boot camp cannot deliver.
Some of the individuals that attend our camps would never be able to access professional personal training without Live Life Get Active.
Benefits
Working for Live Life Get Active means more than just an opportunity to give back to the community.
We pay a competitive hourly wage
Provide ALL of the equipment for cross-training and boxing sessions
Supply professional session plans for your classes
Conduct all the bookings and marketing
Allow you to grow your own PT business through our member base
What type of classes does a PT take?
As a PT you will be responsible for our boxing and cross-training classes. We run alternating boxing and cross-training for 4 days of the week (the other day is reserved for yoga).
Our classes run for 200 days of the year in conjunction with school holidays. As a PT there is work on offer for 160 days of the year!
"Live Life Get Active plays a significant role in my life as it allows me to give back to the community, make new friends and bring something good to others' lives," – Shikha, Trainer.
At Live Life Get Active we pride ourselves on being approachable and accessible to all fitness levels and abilities. Which is why creating a fun, welcoming and non-intimidating class atmosphere is so important to us.
What qualifications do we require?
At Live Life Get Active we want to ensure our members are always receiving a well delivered and safe workout. Therefore, we do require a high standard of qualifications for personal trainers.
Certificate IV in Fitness or higher
Boxing accreditation (punch or stomp)
Certificate of Currency for the following insurances

Professional Liability – $5 million
Public Liability – $10 million
Product Liability – $10 million

CPR Certificate (current)
First Aid Certificate
State Recognised Working with Children Certificate
Registered ABN
Interested in applying for a Live Life Get Active personal trainer position?
Simply follow the link below to see available positions and to apply.