Tai Chi – meditation in motion with life changing benefits
After much interest, Live Life Get Active is now offering Tai Chi classes to members. But what exactly is Tai Chi and what do you get out of it? Well, we've put together a basic rundown of what it's all about. So keep reading to find out the answers to these questions as we dive into how our tai chi classes can improve your life.
What is Tai Chi?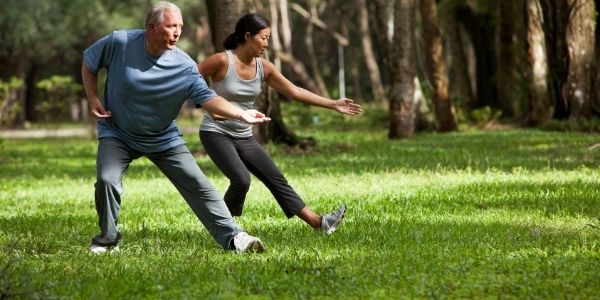 Tai Chi is a moving meditation that originated in China and now comes in many forms and is practiced all over the world. Basically, it's a continual slow-motion, low impact exercise that incorporates deep breathing and brings focus to sensations throughout the body.
Because of the relaxed and gentle nature of Tai Chi, it can easily be adapted to all types of people and is suitable for all fitness levels. Throughout the practice, the circular motion of the movements means your muscles, joints and connective tissue remain relaxed. So it could be the perfect way to exercise for anyone, whether you are recovering from surgery, are restricted to a wheelchair, have an injury or low mobility, or simply need a low impact way to get moving.
How can Tai Chi improve my life?
So now that we've looked at what Tai Chi is, you may be wondering what the benefits of practising it are for your life?
Well the good news is, there are a whole bunch of them. In fact, there are a range of both physical and psychological benefits to incorporating Tai Chi into your everyday lifestyle.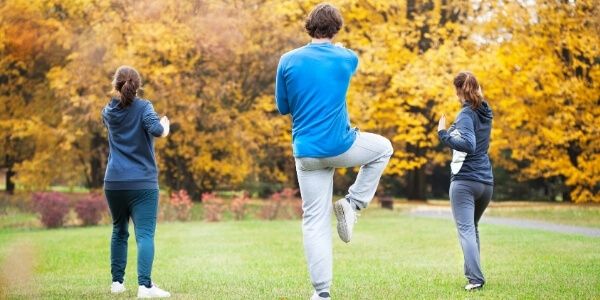 Physical benefits:
Because there is so much focus on slow movement and bodily sensations when you practice tai chi, naturally it can create a deeper awareness of the body which promotes physical benefits. These include:
More energy – Tai Chi helps to relax your muscles and clear your mind, mobilising the body's energy. Tai Chi is perfect to practice in the morning as it will energise you for the day ahead.
Increased mobility and strength – Tai Chi can improve lower and upper body strength and flexibility. This can help to support other forms of exercise, yoga and everyday movements.
Balance and posture – the movements and poses in tai chi help to improve your balance and reduce the risk of falls as you age.
Improved cardiovascular health – the deep breathing in Tai Chi can enhance oxygen uptake and reduce shortness of breath as well as lower blood pressure.
Boosted immune system – stress can interfere with our immune system. Tai Chi has shown quieten the nervous system's response to stress via its collective effects of exercise, relaxation and meditation.
Easing pain – Tai Chi has shown to be effective in easing pain for some physical ailments such as rheumatoid arthritis.
Psychological benefits too:
As you might imagine, the calming and quiet practice of Tai Chi can promote many benefits to your mental health as well. As a form of active meditation, there is a prominent focus on the mind and its relationship to your body. Here are some improvements you may see:
Better focus and concentration – you will learn to focus and clear the mind to leave room for better concentration and productivity.
Improved mood – the movements and calming techniques in Tai Chi are natural mood boosters.
Lower stress levels – Tai Chi will help calm your nervous system better equipping you to respond to stress.
Better sleep – the relaxation techniques you learn in Tai Chi will help you have a better sleep.
Stimulates endorphins – the movements, positive thinking and relaxation techniques in Tai Chi will promote feelings of positivity and happiness.
Book into Tai Chi now!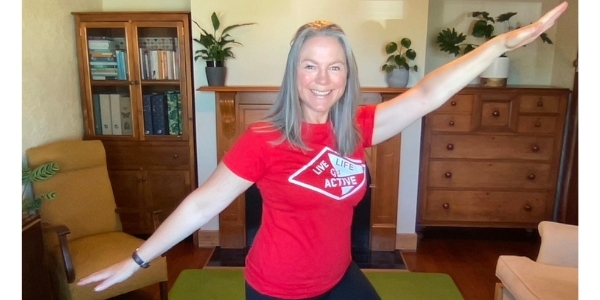 Our Tai Chi classes are run by the warm and nurturing Nicky Angelone. Nicky is an experienced meditation and yoga teacher and life coach.
Here she explains what her sessions are all about.
How do I book?
Our Tai Chi classes will be held first thing in the morning so you can start your day feeling energised, and in a positive mental state.
Timetable:
Monday 6:30 – 7:00am
Thursday 6:30 – 7:00am
To book:
Select 'livestreams'
Select 'wellness'
Book into 'Tai Chi'
Not a member?
Fill in our short registration form to become an online member here and gain access to FREE Tai Chi, Meditation, Fitness, Yoga and Nutrition programmes.
Live Life Get Active is a registered health promotion charity that offers FREE outdoor activity camps and wellbeing and nutritional programmes to help address obesity, diabetes and mental health. Our vision is to build fitter, healthier and happier communities right across Australia. Our in-park offering is supported by a comprehensive digital offering.
References

Tai Chi Australia: Health Benefits of Tai Chi - https://www.taichiaustralia.com.au/tai-chi/benefits/health

Harvard Health Publishing: The health benefits of tai chi - https://www.health.harvard.edu/staying-healthy/the-health-benefits-of-tai-chi

Mayo Clinic: Tai chi: A gentle way to fight stress - https://www.mayoclinic.org/healthy-lifestyle/stress-management/in-depth/tai-chi/art-20045184

Victoria State Government Better Health Channel: Tai chi - health benefits - https://www.betterhealth.vic.gov.au/health/ConditionsAndTreatments/tai-chi-health-benefits

https://www.health.harvard.edu/newsletter_article/In_Brief_Tai_chi_gives_immune_system_a_boost#:~:text=The%20UCLA%20researchers%20noted%20that,intervention%2C%22%20the%20researchers%20said.

https://www.health.harvard.edu/exercise-and-fitness/tai-chi-a-gentle-exercise-that-may-help-heal-your-heart#:~:text=Tai%20chi%20offers%20other%20benefits,those%20who%20did%20stretching%20exercises.