How To Book Into Your First Live Stream Session
We promote ourselves as aiming to improve the health and fitness of Australian's across the country, To do this we provide different online offerings to keep you active indoors and outdoors with sessions guided by our professional trainers.
All of our members have unlimited access to live-stream sessions including Yoga to stretch hand rejuvenate the body, Active Training to get your heart racing and blood pumping, Pilates to tone and strengthen the body, Tai Chi and Meditation to calm the mind.
Unlike our on-demand videos that you can access at any time here, you will need to become a member to access our live-stream classes. The good news is that it is completely free and easy to become a member, all you need to do is register.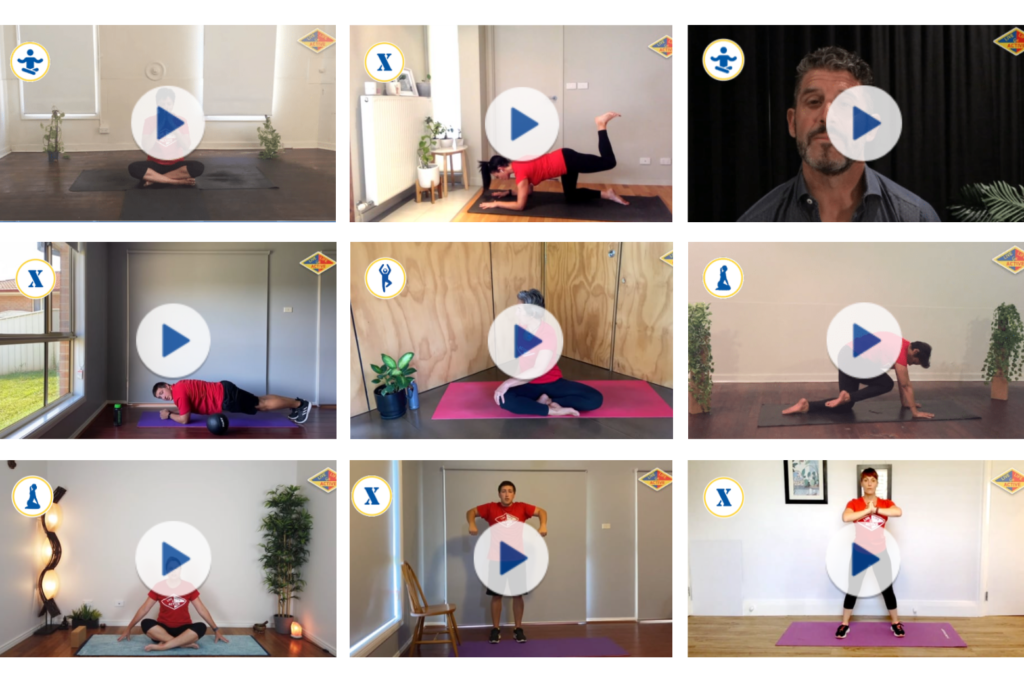 1.   Booking In
The first step is booking into your live-stream class. These classes can be enjoyed anywhere you have an internet connection and it's as simple and easy as logging into your account and booking a spot. We have provided a step-by-step process outlining how to do this on our website.
Log into your account
Select "Book A Session" from the top menu bar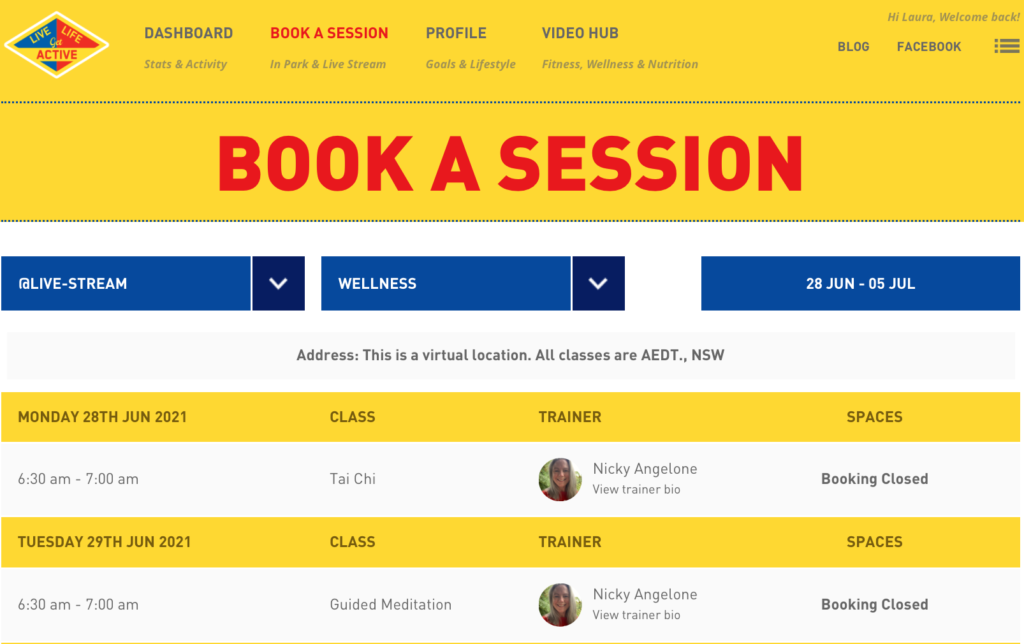 Select @live-stream from the far left dropdown menu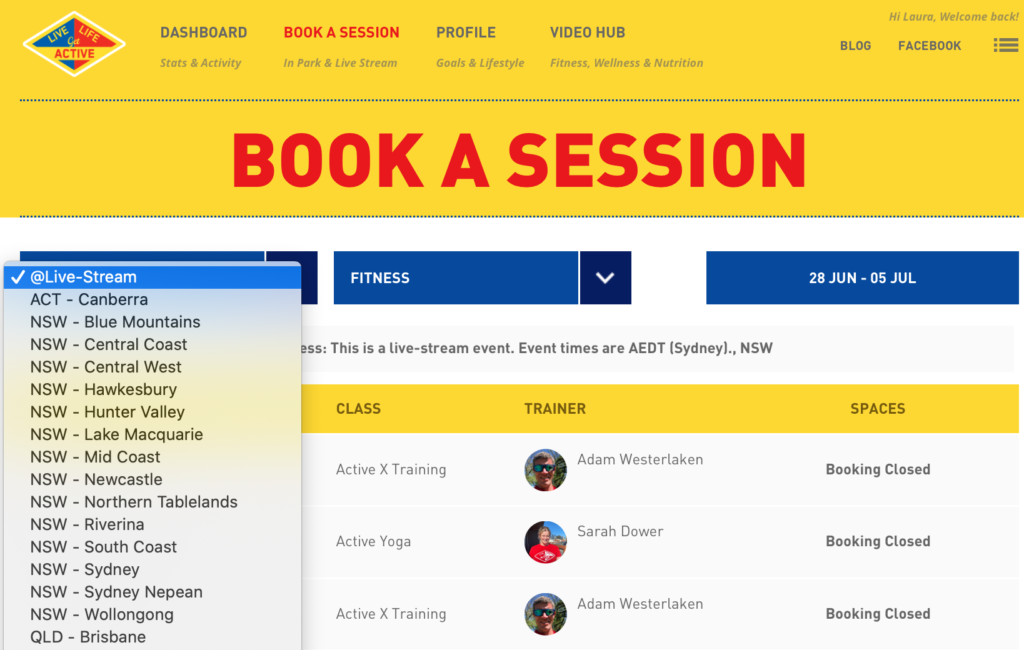 Select the type off class you wish to attend from the middle dropdown menu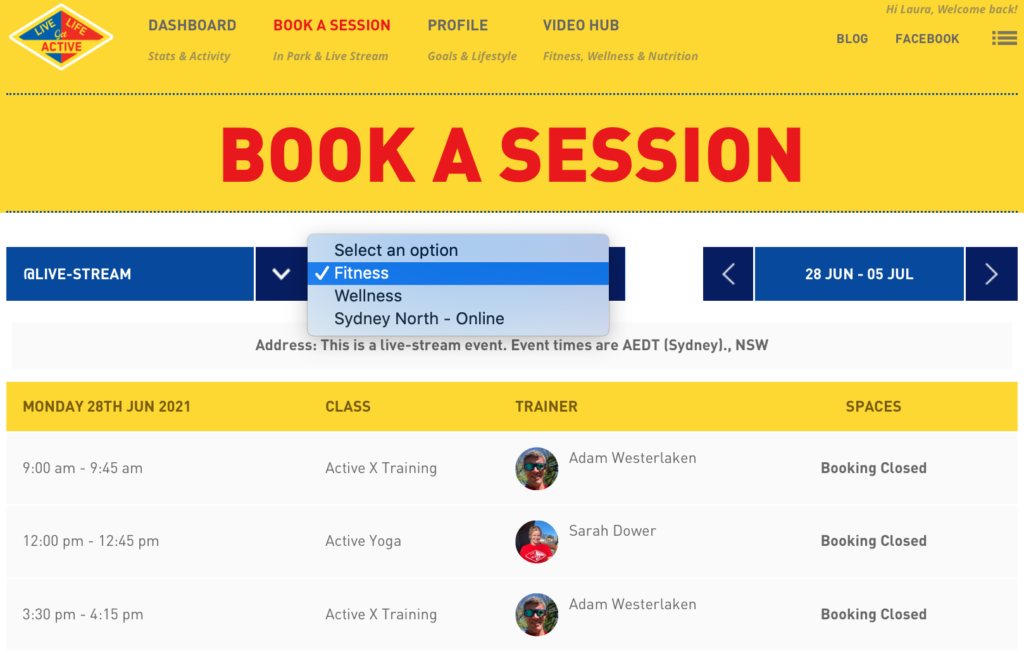 You may need to change the dates in the far right drop-down menu
Scroll down to see the classes available.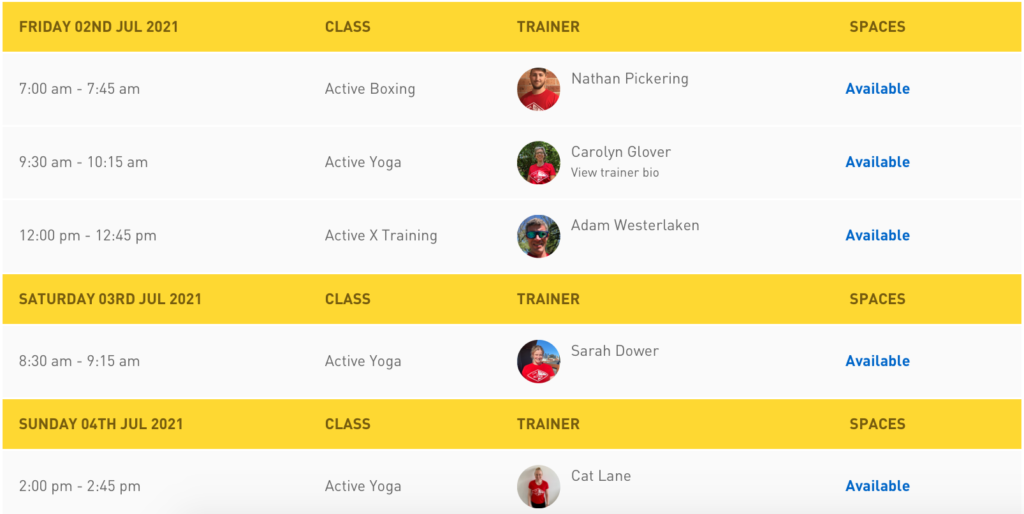 Click onto "Book Now", then "Confirm" your booking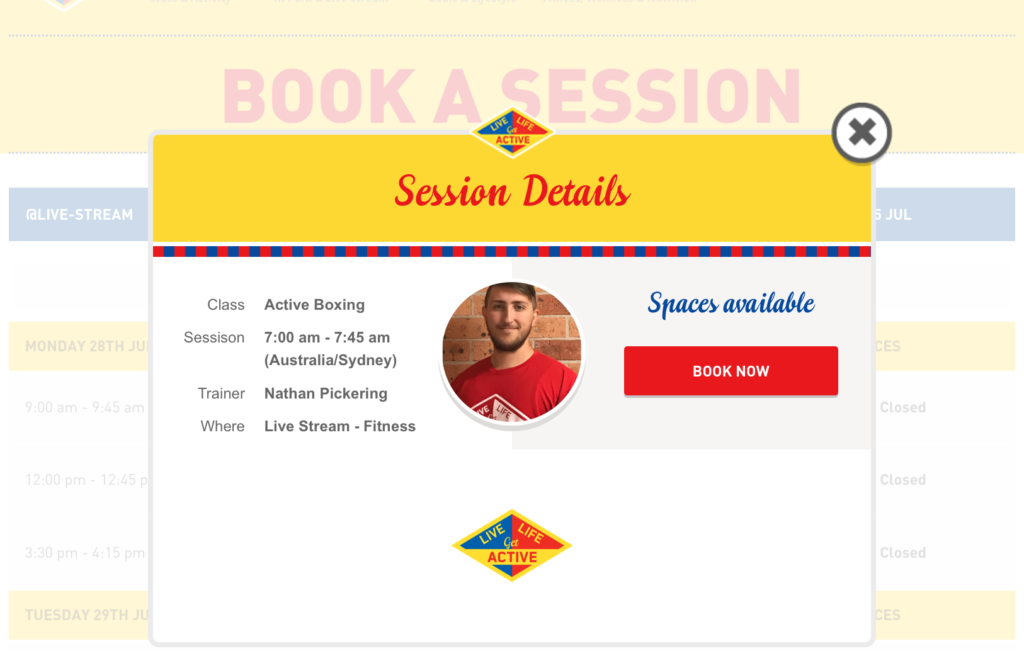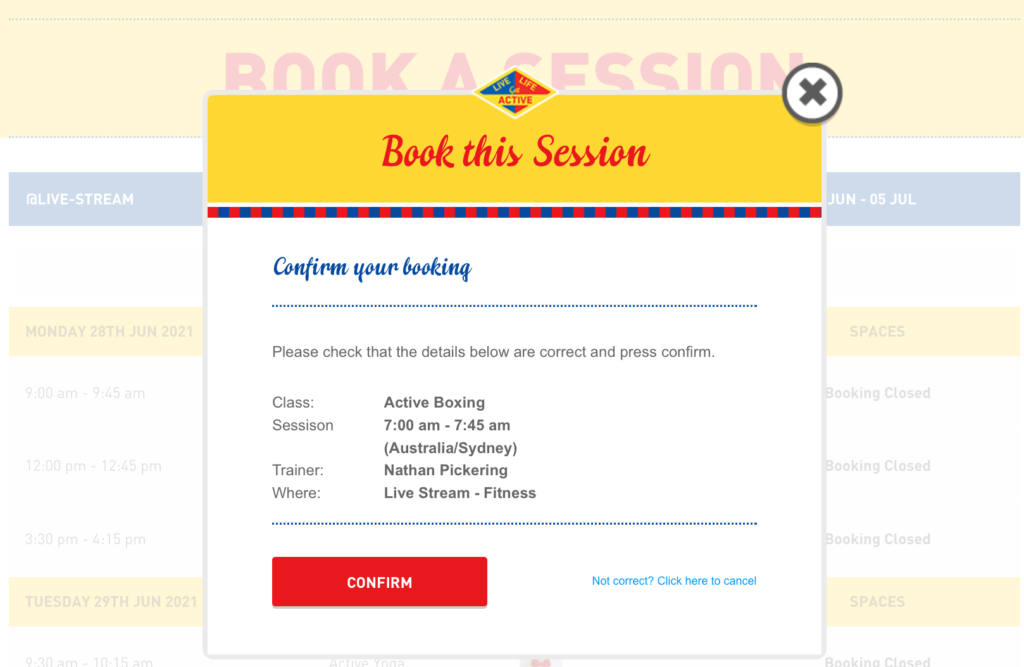 I look forward to my online workout with LLGA everyday, they are wonderful. Having the ability to book into live-stream classes has changed my life helping me to become disciplined and improve my mental and physical health. Since joining LLGA I have been living my life to the fullest and am so grateful for being part of this group. – Sana, Live Life Get Active online

2.   Preparing For Your Class
Once booked in we send you a link via email to access the 45-minute class taken by a professionally qualified instructor.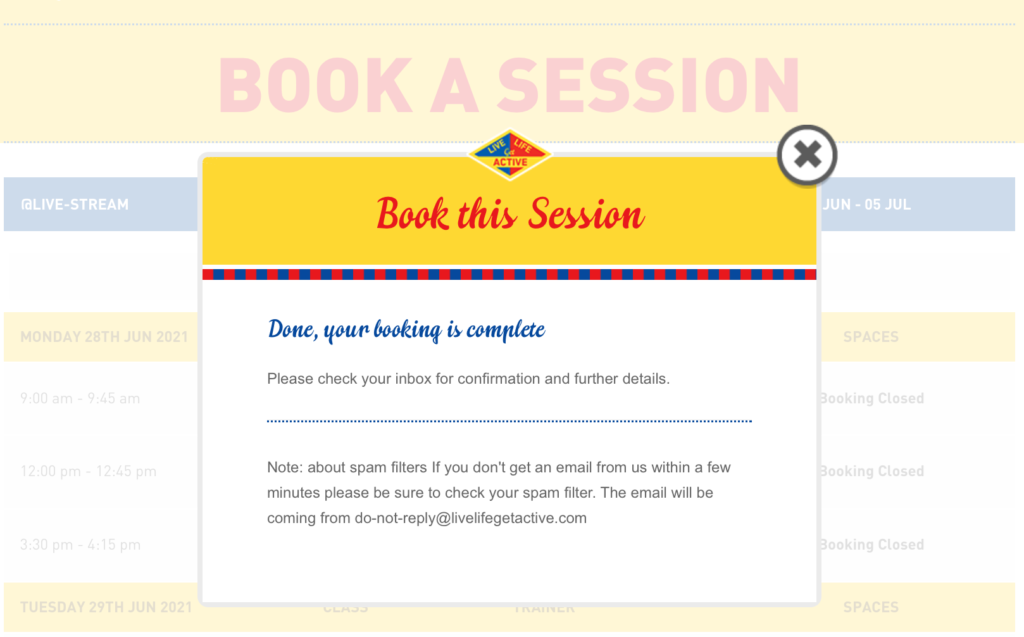 On the day of training make sure that the area you are using as a workout space is clear. You could use a towel or mat to be more comfortable working out on the floor, and to wipe down sweat.
Make sure you have a decent sized water bottle to keep you hydrated before, during and after your workout.
All of the sessions require little or no equipment, our trainers are quick to provide suggestions as to household items you can use to add some extra weight if needed.
I have found the online pilates and yoga classes to be invaluable to reclaiming my strength. Having done yoga for many years and then stopping, I am thoroughly enjoying getting back into it. The length of class is great for me as I have a busy life but committing to 45minutes fits within my schedule well. Thank you to the trainers, they are committed and believe in us all reaching our goals. – Liz, Live Life Get Active online
3.   Taking The Class
We suggest you enter the Zoom session 5 minutes before it is due to start as our trainers begin the warmup and to save time for any technical difficulties that may occur. 
Your microphone will be muted but you can choose whether you want your camera on or off, either way, you will be able to see the trainer and workout alongside them.
Turn your volume up for instructions from your trainer and remember to have fun! 
You will be taken through a cool down and stretch so you can then get on with the rest of your day feeling energised and in a positive mood after a burst of happy hormones.
Live Life Get Active has been an amazing and encouraging platform for me to attend live classes via zoom in the safety of my own home which has provided such a wonderful experience for me. I love all the classes and how they are fantastic and friendly in their approach of delivering the classes. I am so happy and glad that I joined Live Life Get Active as the exercises have certainly helped with my physical and mental health whilst being 'confined' to home. Thank you so much Live Life Get Active! – Jennifer, Live Life Get Active online
We send a weekly email to you as soon as bookings for next week's classes have opened along with the timetable. Not receiving our emails? You may be unsubscribed from our emails. Contact Help Desk if you aren't receiving our emails and they resubscribe you.
Our classes are tailored to all abilities and you will find trainers will always provide a variety of options for different fitness levels.
Start hitting your fitness and wellness goals by booking into your next live-stream class here. If you are not a member and would like to enjoy these free sessions from the comfort of your own home, simply register.
Live Life Get Active is a registered health promotion charity that offers FREE outdoor activity camps and wellbeing and nutritional programmes to help address obesity, diabetes and mental health. Our vision is to build fitter, healthier and happier communities right across Australia. Our in-park offering is supported by a comprehensive digital offering.